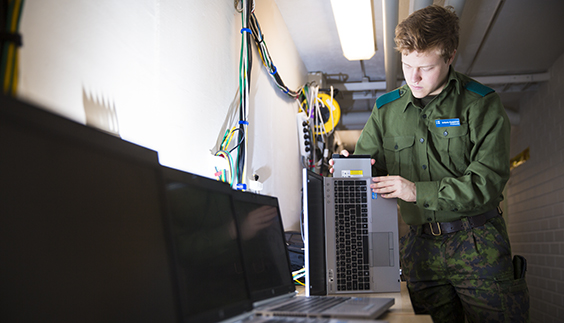 Information and communication technology services
The tasks in this area are available both for the rank and file (255 days) and leaders (347 days).
ICT support
This task will provide you with the readiness to operate as a professional in ICT administration, safety and technology both in the private and public sector, and include duties relating to customer service, maintenance and development. You will be operating in ICT technological environments featuring a number of security classifications.
Tasks
---
Programmer
The programming tasks require that you are able to function independently and look for solutions to ICT problems by consulting online resources. Part of the tasks focus on technological solutions relating to teaching, such as mobile games. In addition, you will be able to partake in developing programming robotics or reporting services.
The rank and file service time is 255 days, and for those in leadership training 347 days.
Tasks
---
Information Systems Installer NCO
The Information Systems Installers NCOs get training in data communications technology as well as practical systems and equipment technology rather than programming. The key topics include the installing, fielding and maintenance of fixed data transfer connections and networks thereof. The training involves the build-up and maintenance of fixed data transfer networks across Finland. For this course you need to have the qualifications for leadership training as well as pass an entrance exam.
Tasks
---
Virtual instructor support
This task involves utilising and developing the simulator in training use in the Finnish Defenece Forces, the Virtual Battlespace 3 (VBS3), a professional version of the Arm A computer game. The virtual instructor support operates either as a programmer or as a 3D modeler. The tasks of a programmer include writing varied scripts, modelling game maps as well as configuring 3D modelling by integrating the models as part of the game. The tasks of a 3D modeler involve modelling, texturising and photographing the Finnish Defence Forces' equipment with access to modelling tools such as Blender, 3ds Max, Quixel Suite and Adobe Photoshop CS5. The daily tasks also include maintaining the simulator class rooms and serving as an assistant instructor and support person in simulation training exercise.
The prospective applicants will undergo an interview and take an entrance exam in their own brigade-level units.
Tasks
---
Web administrator
The admin functions as a technological specialist in the Defence Command's Public Information Division. The media production team supports the FDF's national communications, and caters for the classy contents and outlook of the FDF's sites. The admin updates the FDF's public domain online sites, drafts questionnaires, print outs statistics, advises contents producers and, when necessary, produces instructions fluently.
Tasks