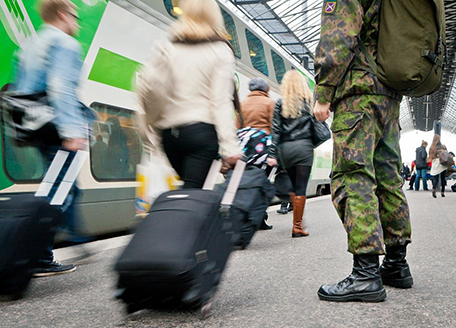 Travel while on leave
You are entitled to travel free of charge in Finland while going on and returning from leave.
This form of free-of charge travel also covers entering into service and mustering out, being transferred to home care and any assigned and transfer travel relating to military service. Those permanently residing overseas get a defined number of travel tickets to their home country.
Reserve enough time for returning back
Please remember to reserve enough time for getting back to the service location when returning from leave, and pay particular attention to the potential transfer connections in public transportation that you may need to depend on. Being late for the set deadline can lead to becoming suspected of unauthorised absence without leave leading to disciplinary proceedings.
In cases that a so called legally binding hindrance contributes to your absence, for instance delays or cancellations in public transportation, no disciplinary proceedings will take place. It will be decided on a case-by-case basis whether this will be the case, and only in exceptional circumstances any local transportation delays will be considered to qualify as a legally binding hindrance.
If the form of public transportation taking you to the service sustains delays, proceed as listed below:
Ask the driver to give you a written statement on the delay.
This written statement should indicate what the estimated time of arrival in destination should have been if on schedule, how long the delay was and why the delay occurred. If the driver does not provide you with this statement, you need state this in the possibly ensuing preliminary investigation. The Finnish Defence Forces' will then make a request to the transportation organiser to determine whether the delay was caused by a legal hindrance.
Save the travel ticket and present it with the written statement to the personnel of your own unit.
Notify your unit's duty officer immediately when the hindrance occurs that you will be late.
Travel by Train
During your conscript service, you may travel without restriction and without a separate ticket on VR (Finnish Rail) long-distance and commuter trains, while wearing your leave uniform and carrying your conscript card with the VR barcode sticker.
Read more about travelling by train and reserving a seat at VR's website:
https://www.vr.fi/cs/vr/en/conscripts_uusi