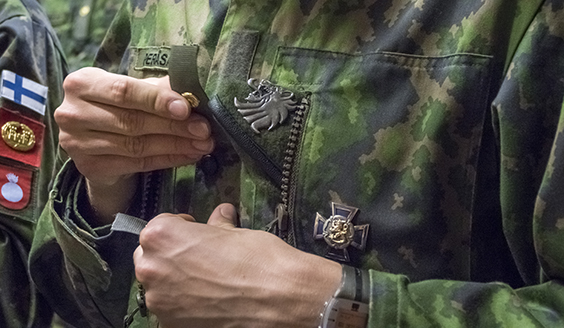 Promotions in the reserve
Military ranks and service ranks signify a supervisory position, training and task. Promotions in the reserve are based on the number of refresher training days, wartime task as well as suitability.
You can also receive refresher training days that entitle to a promotion by partaking in and doing well in:
Refresher training exercises
Finnish Defence Forces' voluntary exercises
Training events commissioned from the National Defence Training Association
Other equivalent training events as applicable
Service in the Finnish Defence Forces, peace keeping tour of duty, or equivalent can be taken into account in the promotion decision-making.
You can be promoted every four to seven years. Please note that the higher the reservist's officer rank, the less frequently the next promotion is likely to take place. All promotions always remain subject to discretionary criteria.
Being promoted presupposes that
You have been placed or can be placed to a task that allows being promoted
You have been reserved for another wartime task (person reservation)
Promotions usually take place on 4 June, the Flag Day of the Finnish Defence Forces, or on 6 December, the Independence Day. The rank and file can also be promoted in conjunction with the refresher training exercises as well.
Military rank

Training requirement

+placement and suitability as regards the equivalent wartime task

Private First Class/ Seaman

1 day

Corporal

7 days (4 yrs.)

Sergeant

Reserve NCO, 10 days (4 yrs.)

Staff Sergeant

Reserve NCO, 20 days, Conscript Sergeant 10 days, (4 yrs.)

Sergeant First Class/ Chief Petty Officer

Reserve NCO, 40 days, Conscript Sergeant 30 days (5 yrs.)

Master Sergeant/ Senior Chief Petty Officer

Reserve NCO, 50 days, Conscript Sergeant 40 days (5 yrs.)

Sergeant Major

Reserve NCO (5 yrs.)

Second Lieutenant / Ensign

Reserve Officer

Lieutenant

Reserve Officer, 10 days (4 yrs.)

First Lieutenant

Reserve Officer, 30 days (5 yrs.)

Captain / Lieutenant, Senior Grade

Reserve Officer, 60 days (6 yrs.)

Major / Lieutenant Commander

Reserve Officer (7 yrs.)

Lieutenant Colonel / Commander

as above, only in exceptional cases (7 yrs.)