Applying for cyber conscript training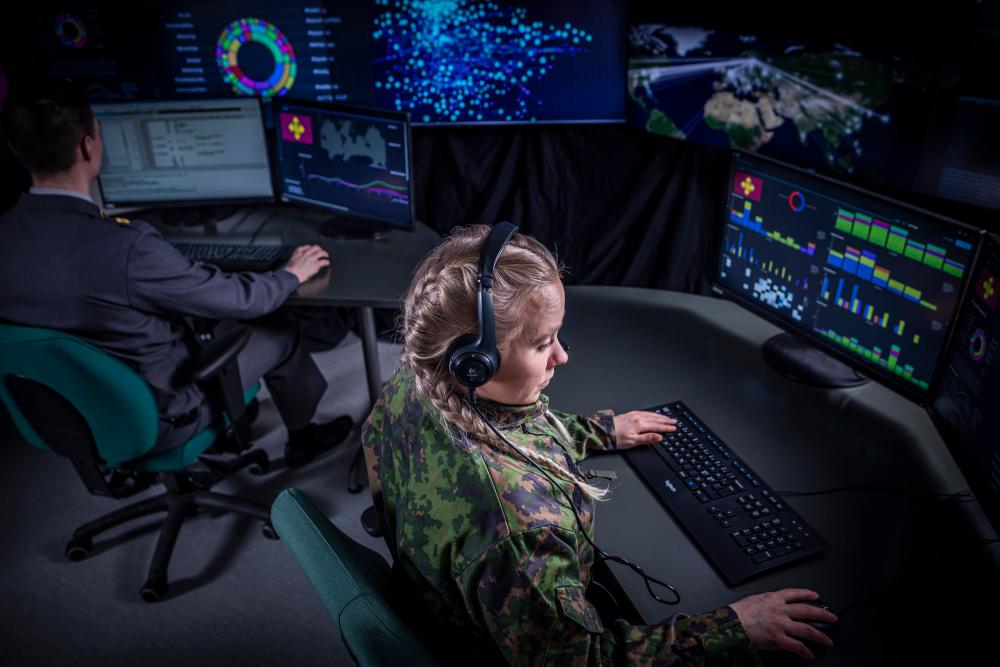 Applying for cyber conscript training happens through the special forces application process before the start of one's military service. The application period for the cyber conscript training starting in July 2024 and January 2025 is open from 1 September 2023 to 31 January 2024.
The Defence Forces has interesting and challenging tasks for you in cyber defence. Take on this challenge!
Two contingents per year will be trained to be cyber conscripts, and 15-20 best suited applicants will be selected to each contingent based on an entrance test. Cyber conscripts' service time is 255 days. A number of conscripts per contingent will also be trained for leadership duties. Their service time is 347 days.
The special application process enables planning ahead to allow a sufficient number of conscripts meeting the skills requirements for cyber training to be selected. In the process, the selection of conscripts takes place before they enter into service, and the necessary security clearances can be completed in advance.
Cyber conscripts start their service in the Armoured Brigade where they are given soldiers' basic training which takes six weeks. After the basic training phase, the cyber conscripts move on to the C5 School in Riihimäki to receive 12 weeks of special training.
The training is practical
The training is practical and versatile information technology, information security and cyber security training. The sub-areas include, among other things:
network technologies and operating systems
open-source intelligence (OSINT)
encryption systems
basics of protection
network centre operations
red teaming
forensics
project work
After having received special training, during the unit training or leadership training period, the conscripts serve in various Defence Forces cyber duties across Finland. For example, network centre operations and project tasks as well as national and international cyber exercises are a part of cyber conscript service. After military service, cyber conscripts will be placed to the cyber force reserve and they will be able to apply for employment in the cyber branch with the Defence Forces.
We are looking for motivated individuals who are interested in technology and already have prior know-how in information technology and motivation for constantly improving their skills. You don't have to be an expert in every sub-area. Applicants must be irreproachable Finnish citizens. The applicants may have very different skills profiles indeed: their know-how in cyber defence will be deepened in the course of the training.
We require applicants to have experience of one or more information technology-related sub-areas, such as:
programming
network technologies
operator systems (Windows, Linux)
maintenance of servers and terminals
Know-how in one of the following would also be an asset:
network operations centre (NOC/SOC)
penetration testing and Red Teaming
cyber threat intelligence (CTI)
open source intelligence (OSINT)
digital forensics
software development
project management
virtualization technologies
artificial intelligence and machine learning and neural networks
operational technology and embedded systems
mobile technologies
cryptology
The following are regarded as assets:
motivation and interest in learning new things
ability to work persistently and independently, logical thinking
interest in software, electronics, foreign languages and anything new
willingness to work in teams and different types of groups
"hacker mentality"
Renewed cyber conscript service:
- Cyber conscripts are a special operations force to which you can apply through the special application process. This application round concerns conscripts to be selected for contingents 2/24 and 1/25.
- You must apply for cyber conscript training before the start of your military service. You can not apply to the training if you have already started your military service at some other brigade-level unit.
- Applications must be submitted by 31 January via the Defence Forces E-Service at
asiointi.puolustusvoimat.fi
under "Hae erikoisjoukkoihin", or in paper version using a form you can obtain from the regional office if necessary or print out from
puolustusvoimat.fi/asiointi/lomakkeet
"Hakemus erikoisjoukkoihin".
- Based on the applications, a number of applicants will be called to a one-day entrance test held in March. On the basis of this test, the best suited candidates will be selected for cyber conscript training and ordered to report for military service in the Armoured Brigade in July that year or in January the following year.
- The cyber conscripts will undergo the normal basic training phase (six weeks) in the Armoured Brigade followed by the special training provided by the C5 School (12 weeks).