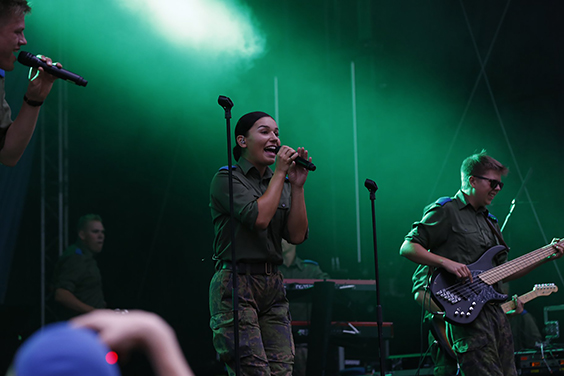 Military bandsmen
The Conscript Band of the Defence Forces offers musically talented conscripts a chance to complete their military service in a military band.
Performing in events requiring distinguished performance in Finland and abroad, the Conscript Band specializes in figure marching and concert music performances in particular.
Service location: Armoured Brigade, Hämeenlinna

Service duration: 255 days, and 347 days for leaders

Contingent: January
Training
Military service begins with the basic training period that all conscripts are subject to, whereas during the special training period, conscript bandsmen are formed into a figure marching composition, a big wind ensemble, a string ensemble, an entertainment ensemble and a showband with performances Both in Finland and abroad.
Some of the selected conscripts are placed into military bands as conscript bandsmen. Additionally, a rifle drill team of 20 persons will be established with members sustaining a good sense of rhythm, being of good physical build proportionally and having a particularly commendable attitude towards military training in a rifle drill team that demands persistence.
The drill team performs as part of figure marching programme of a military band or as a performance group of its own.
Following military service, those interested in the profession of a military bandsman may apply for the bandsmen positions available in military bands as applicable.
Requirements for entry
Applying to become a military bandsman is available for percussion instrument players, vocalists, basists, guitarists, keyboard or stringed instrument players as well as sound and lightning technicians. Also choir and band conductors as well as media specialists (photographers, camera operators and graphic designers) may apply for the Conscript Band.
Instead of formal entrance requirements, it is rather the practical skills and expertise that determine the advancement. Apart from the skills demonstrated, the applicants are expected to behave in an upright way and be enthusiastic about the task of a military bandsman.
Applying
The annual application deadline is on 31 December. Application for the Conscript Band Finland https://asiointi.puolustusvoimat.fi. Read more here.