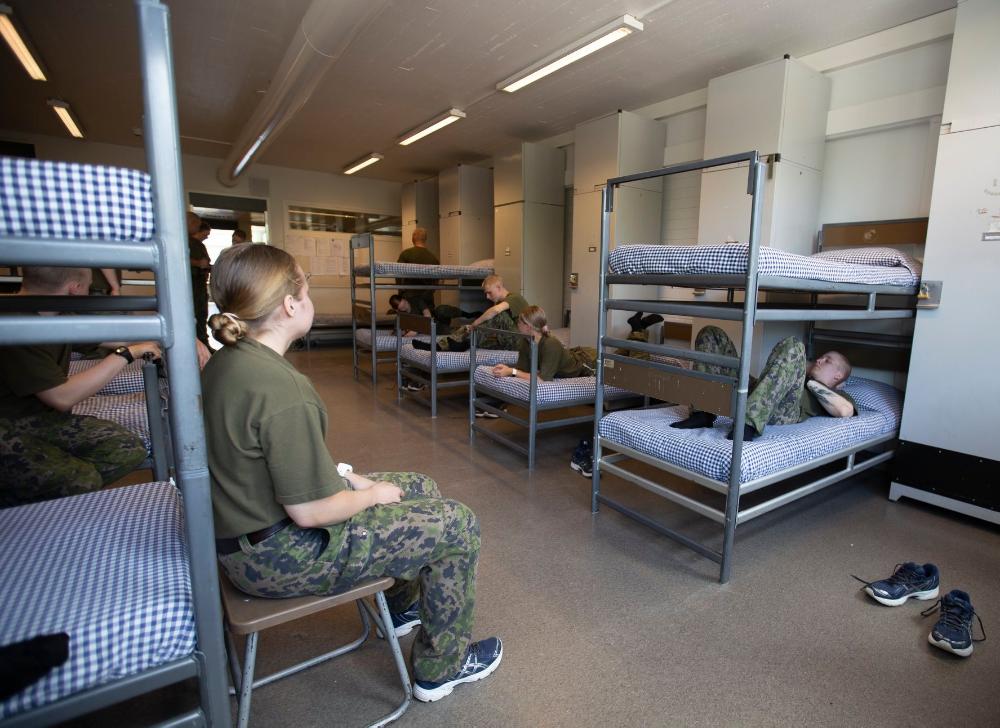 Accommodation, meals and clothing
During the military service, you will be given free of charge accommodation, meals, clothing, health services and social support services.
The Finnish Defence Forces will remain committed to sustaining and promoting your well-being and health. When you are well, you will be able to do your service optimally and undertake training.
Garrison is a conscript's home
While in service, your accommodation will be in the garrison barrack buildings. Women and men reside in designated barrack rooms separately. The garrison barrack buildings will also house the class rooms, administrative office space, storage as well as social facilities. When participating in military training exercises, main training events and onboard naval warships, no separate accommodation will be arranged. During field training exercises accommodation is arranged in tents for 10 to 20 persons.
Have as many servings as you want
While in service, you will be served wholesome, healthy and varied meals that meet the nutritional recommendations in the garrison restaurants, known in Finnish by the abbreviated acronym "muke". All the meals will be served from a self-service buffet in the garrison dining halls.
On weekdays from Monday to Saturday, the meals will include the breakfast, lunch, dinner and voluntary evening snack. On Sundays, the breakfast and lunch will be covered by a more substantial breakfast, known as the brunch. When participating in field training exercises, you will primarily be served the same daily meals as at the garrison.
Special diets will be accounted for both at the garrison and while in the field. Remember to notify the garrison restaurant on your special dietary requirements when you enter into service.
You can access the garrison restaurants' updated menu selection at https://leijonacatering.fi/en/menus/.
Flawless and clean clothing
You will receive all necessary outfits for the different seasons. The set clothing and equipment will always be separately instructed.
You will be responsible for collecting and exchanging clean and mended replacements as well as soring the items with care. Civilian clothing, such as underwear, can be used as long as these items of clothing remain covered. While doing sports on your free time off, you can use your own sports gear.