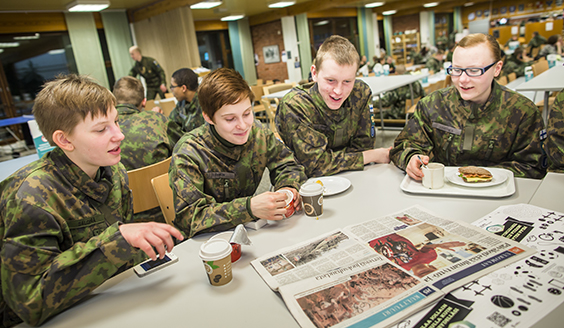 Free time off
On service days you will also have free time as well. The daily free time off depends on the training scheduled for the given day in question. Service permitting, the free time off usually extends from 17:30 to 21:30.
While on leave and during free time off you can use your civilian clothing outside the garrison area, but you must wear the military uniform while leaving for and returning from leave or free time.
You may spend your free time off at the garrison in a number of ways. The sports opportunities vary depending on the garrison, but usually the premises feature a gym, jogging tracks and versatile sports clubs organised by the Conscript Committees.
Soldiers' Home Canteen, known as "Sotku" or "Sode"
The Soldiers' Home Canteen is the resting place for each soldier. At the Soldiers' Home Canteen you can have a cup of coffee with sugar rolls or, for instance, play billiard with your mates. The Soldiers' Home Canteen will also offer a selection of take-out pastries, sandwiches, soft drinks and sweets. Several Solders' Home Canteens will be open for your family to meet you. Double-check this opportunity by your own unit. The salaried workers and voluntary sisters of the Soldiers' Home Association run the Soldiers' Home Canteens.