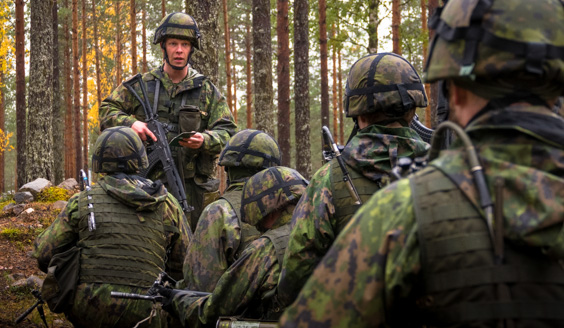 Reserve Supplementary Training Programmes
The Finnish Defence Forces will train motivated reservists on supplementary training programmes to have rank and file undergo training to become non-commissioned officers and non-commissioned officers to become reserve officers, respectively.
These supplementary training programmes last for nearly a full year and comprise tens of days of in-class training as well as training in the field complemented by online studying. The Regional Offices' customer service will provide additional information on this type of reserve supplementary training.
Applying for the courses
The supplementary training programmes are arranged in alternative years depending on the reserve military rank of a given reservists:
Reserve rank and file will be trained into non-commissioned officers in 2020 and 2022.
Reserve non-commissioned officers will be trained into reserve officers in 2019 and 2021.
You must submit the application by the end of the previous year's September at the Regional Officer. The trainees for these programmes will be selected by the Army Command.
The entry requirements for these programmes include
The result of at least 2,300 metres 12-minute running test
A planned or valid placement to a reserve task for which purpose the applicant seeks for this training
Commitment and will to defend the country
It is to your advantage if you have
Leadership training and other special competences
Experience in peace keeping missions
Partaken in voluntary national defence activities
Courses
Those undertaking training to transition from the rank and file to a non-commissioned officer will participate in studies comprising in-class training and hands-on practice altogether approximately 15–30 days in total, and for those training from non-commissioned officers to reserve officer this number of days equals 40. Both the courses entail distance learning as well. Earlier completed studies, for instance the instructor course of the Reserve Officer School can be acknowledged as part of the studies.
The reservists who complete the course successfully will be promoted and those trained to non-commissioned officers will graduate in the rank of Reserve Corporal, whereas the reserve-officer-trained will graduate in the rank of Reserve Second Lieutenant or Ensign. In case the reservist trained from the rank and file to a non-commissioned officer already is in the rank of Reserve Corporal, the general principles for reservist promotions will apply.