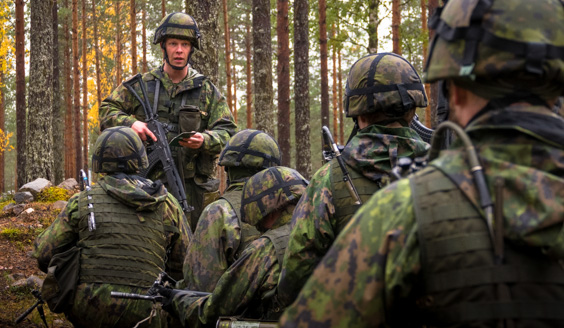 Reserve Supplementary Training Programmes
The FDF trains motivated reservists from the reserve rank and file into reserve NCOs, and from reserve NCOs into reserve officers on reserve supplementary courses.
The supplementary courses take approximately a year to complete, and involve tens of days of contact teaching and field exercises as well as online studying. More information on these courses is available at the customer service of Regional Offices.
Applying for the courses
The supplementary courses are organised every second year based on the reserve rank:
Reserve rank and file are trained into reserve NCOs in 2022 and 2024
Reserve NCOs are trained into reserve officers in 2021 and 2023
The application for these courses needs to be sent to the Regional Office by the end of September of the year preceding the given course. The students are selected by the Army Command. The application must be on the FDF form 448-8796 "Hakemus reservin täydennyskoulutukseen" [application for reserve supplementary training, in Finnish].
The selection criteria include:
at least 2 300 m in the 12-minute running test
planned or in force placement to a reserve task for which the applicant undertakes training
commitment and will to defend
Of benefit to applicants:
leadership training and other special skills
experience in peacekeeping tasks
prior participation in voluntary national defence activity
Courses
As part of reserve supplementary training, skilled and motivated reservists can train further and receive more demanding tasks in emergency conditions. This enables considering the persons' civilian competences, civilian leadership experience, participation in voluntary national defence, and the willingness to commit to tasks of military national defence.
The reserve rank and file trained into reserve NCOs are provided training that involves contact teaching and exercises up to 15–30 days, for those training into reserve officers altogether 40 days. Both the courses include distance learning. It is also possible to earn credit for the previously completed training, such as the Reserve Officer School instructor course.
Reservists who successfully complete the given course are promoted so that those trained into reserve NCOs become reserve corporals, whereas those completing reserve officer training are promoted Second Lieutenants. If those training from the reserve rank and file are already reserve corporals, their promotion follows the rules for reserve promotions.