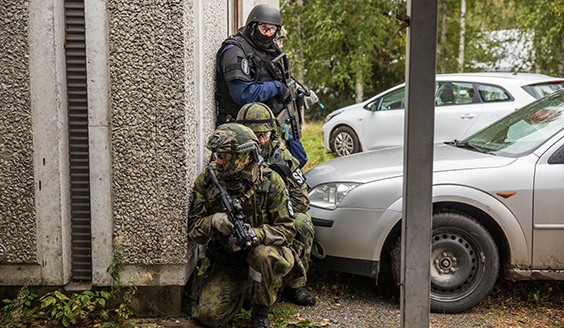 Local forces
Operating across the country, the local troops conduct tasks that involve protection of strategic targets, area surveillance, and counter-SOF operations during wartime, whereas during peacetime, the local units may be used for providing inter-authority assistance.
Composed of local battalions, the local units' area of responsibility is usually a region. The battalions include a number of companies, including local defence companies.
Reservists from the regional forces and operational forces with thorough knowledge of the area of operation are placed in the local units. For instance, a number of the military police undertake training directly in local units while in conscript service.
Local units have interesting tasks for active reservists!
You may apply for the local units by informing the Regional Office. The local units' training rests on the resources available for voluntary national defence training. Apart from local units, you may also apply for your own area's local defence company.
Local defence companies
In strength about 5 000 soldiers, the local defence companies provide training for reservists.
The local defence companies select persons who have volunteered a commitment to the FDF in accordance with the Act on Voluntary National Defence, Section 28. The local defence companies defend a specific area as part of the local units during wartime, whereas during peacetime the local defence companies may be utilised in FDF inter-authority assistance tasks as well as in other defence readiness enhancing tasks.