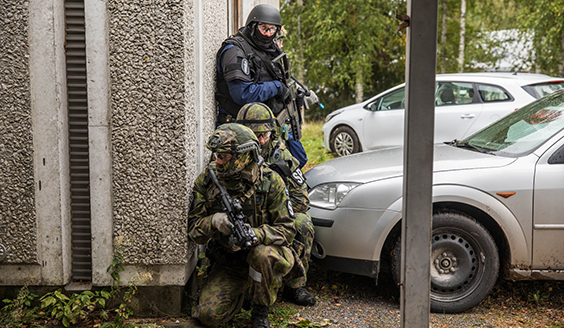 Local forces
Dispersed across the entire nation, the local forces are tasked to protect strategic targets, conduct surveillance in the assigned regions as well as conduct counter operations against enemy troops. In normal conditions, the local forces can be restrictedly used in providing inter-authority executive assistance.
Composed of local battalions, the local forces operate in an area of responsibility whose size primarily equals that of a provincial region. The battalions comprise a number of companies, among others, local defence companies.
Reservists from the territorial and operational units who remain well familiar with the local area of operation will be placed as part of the local forces. For instance, part of the Military Police will undergo training into the local forces while undertaking conscript training.
Local forces feature interesting tasks for active reservists
You can apply for the local forces by notifying the Regional Office of this. The training of these forces heavily utilise the resources of the voluntary national defence resources. Apart from the local forces, you may also apply for the local defence company in your region.
Local defence companies
The overall strength of the local defence forces continues to be approximately 5,000 soldiers in total. The local defence companies offer training to all reservists interested in training.
The persons selected for the local defence companies will be reservists who have made a commitment to serve in voluntary national defence for the Finnish Defence Forces. The local defence companies will defend particular defined areas as part of the local forces. In peacetime, the local defence companies can be utilized in Finnish Defence Forces' tasks of providing inter-authority executive assistance.