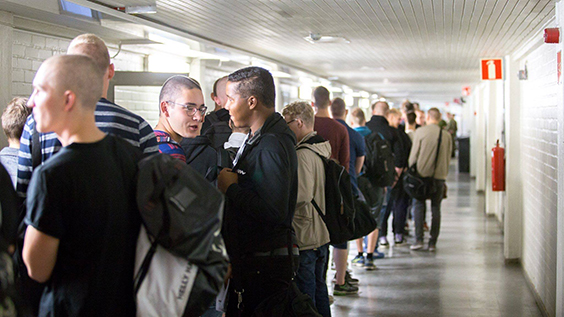 For the first time in a brigade-level unit
You will receive a service order either at the call ups or in the mail with details on when and in which brigade-level unit you must enter into service.
The service order carries detachable travel tickets that allow you to take the bus and train from your home municipality in Finland to your assigned service location. The travel ticket will indicate its validity period.
Please note that the tickets will be invalid in local public transportation of Tampere and Turku and in regional public transportation of the municipal Helsinki area. Upon presentation of documentation of travel costs, other travel modes will be reimbursed in your set service location:
Travel imbursement from the home municipality to the set service location concerning the part uncovered by the service order ticket
Food allowance in case the travel time exceeds six hours
Remember to save your travel tickets and other travel documentation to be attached to the reimbursement application that you will file immediately after you have started your service.
Leave early enough
Arrive at the brigade-level unit already at around noon so that you get enough time to collect your equipment and try the equipment on.
Arriving late brings about problems both for those receiving those arriving and the persons arriving.
When departing for military service, bring along:
Personal hygiene necessities
Social security card (KELA card) and driving licence
Vaccination certificate
Bank account number
Medication
Upon entry into service, bring with you the medication that you are on for the duration of circa 2 weeks with the prescription. After the entry medical examination you will get all the necessary prescription medication free of charge at the garrison heath centre.
Dates for entry into service and mustering out
Finnish Army, Navy, Air Force and Border Guard
Contingent

Entry into service

Mustering out

165 days

255 days

347 days

II/2020

6.7.2020

17.12.2020

17.3.2021

17.6.2021

I/2021

4.1.2021

17.6.2021

15.9.2021

16.12.2021

II/2021

5.7.2021

16.12.2021

16.3.2022

16.6.2022

I/2022

3.1.2022

16.6.2022

14.9.2022

15.12.2022

II/2022

4.7.2022

15.12.2022

15.3.2023

15.6.2023

I/2023

2.1.2023

15.6.2023

13.9.2023

14.12.2023

II/2023

3.7.2023

14.12.2023

13.3.2024

13.6.2024

I/2024

8.1.2024

20.6.2024

18.9.2024

19.12.2024

II/2024

8.7.2024

19.12.2024

19.3.2025

19.6.2025

I/2025

6.1.2025

19.6.2025

17.9.2025

18.12.2025

II/2025

7.7.2025

18.12.2025

18.3.2026

18.6.2026

I/2026

5.1.2026

18.6.2026

16.9.2026

17.12.2026

II/2026

6.7.2026

17.12.2026

17.3.2027

17.6.2027