Reservist benefits in exercises
While attending a refresher training exercise you are entitled to free meals, accommodation, gear and equipment, as well as access to health care and medication. You are paid a reservist salary and a per diem for all exercise days. In addition, your travel expenses covering arrival in and departure from exercise are reimbursed if you are unable to use public transport.
In matters relating to legal protection and social security, you can get help from the social welfare officer of the brigade-level unit which organises the given exercise. This assistance is available free of charge, and the social welfare officer can be contacted already prior to exercise start. Compensation remains available also for any injuries sustained in conjunction with an exercise.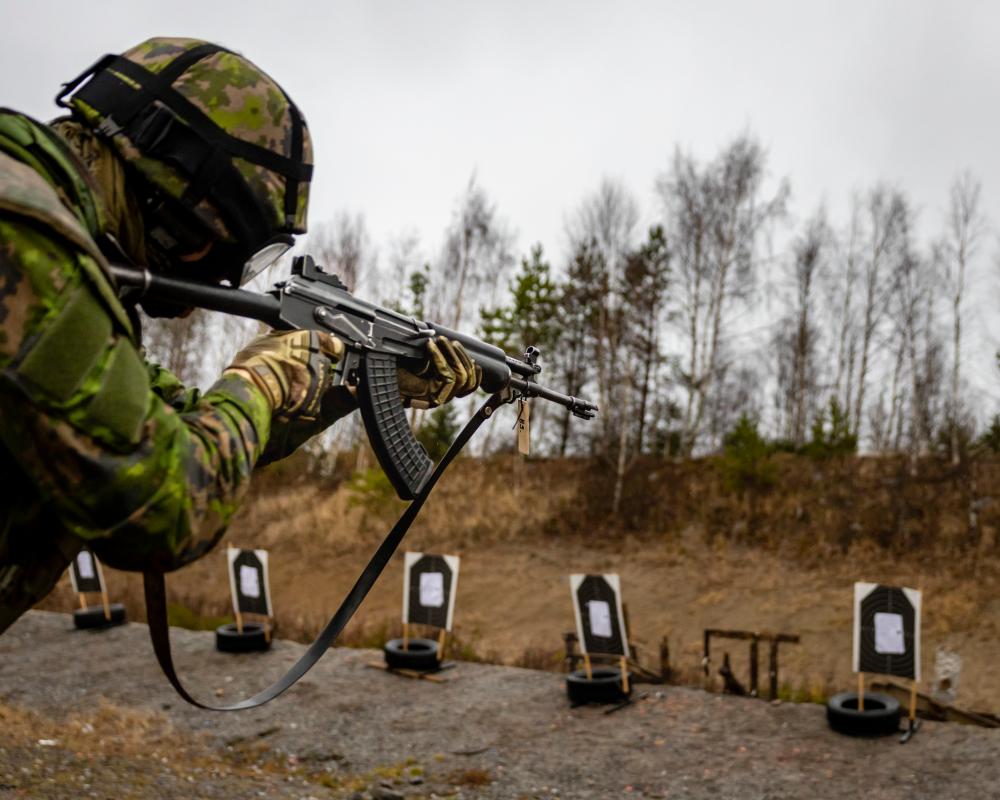 Travel
Public transport travel tickets can be accessed in the part A of the refresher training exercise order or voluntary exercise invitation.
As applicable, you may book an Eko Class seat beforehand on long-distance trains by using the app VR Matkalla. By logging in to the app, as a registered customer, you can book train-specific seats as available on long-distance trains. The refresher training exercise order or voluntary training exercise invitation equal the documentation indicating your right to travel as a reservist.
Read more on traveling by train and booking a seat at https://www.vr.fi/alennusta-junalipuista/varusmiesalennus
If you are unable to use public transport, you can be reimbursed for the expenses accrued while traveling by car (or another vehicle) as listed in the following. Passengers are not entitled to any reimbursement!
| | |
| --- | --- |
| KM | € |
| 3 - 25 | 5,50 € |
| 26 - 50 | 7,65 € |
| 51 - 100 | 16,40 € |
| >100 | 0,17 €/km |
As for other travel reimbursement, please agree on this before the exercise start with the exercise commander or exercise administrative officer, company sergeant major. Contact information will be available in the release enclosed in the exercise order.
Reservist salary and per diem allowance
The reservist salary equals taxable income and does not have to be separately reported to the tax authority. You will receive a salary calculation on the reservist salary for your employer. Please double-check this document to ensure that it is signed by a military authority. This allows you to submit a request for rectification in case applicable.
The decision to increase reservist salaries has been made by decree of the Ministry of Defence as of May 1st 2023. The reservist salary for the rank and file is from this date 65.51 euros (previously 63.30), the nco's 68.79 euros (66.46) and for the officers and special officers 72.06 euros (69.62) per day.
The daily allowance is EUR 5.40 for everyone. The allowance is tax-free income. Women get an additional allowance of EUR 1.50 per day.
A person liable for military service can be reimbursed for particular tasks involving responsibility and danger (e.g. combat diving and paratrooping activity).
A person invited to a voluntary exercise qualifies for the above listed benefits except for the reservist salary.
All benefits are paid to the bank accounts of those attending the exercise following the exercise end, at least once a month, by the brigade-level unit which organised the exercise.