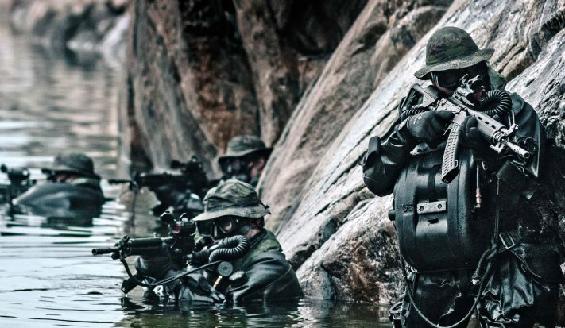 Divers
As a diver you undergo versatile training in the special operations forces of the Finnish Navy.
This course for FDF divers aims at recruiting fit and motivated students. No previous diving proficiency is required. Each year sees through approximately 20 qualified divers who report for service in January and always serve for 347 days in the Coastal Brigade in Upinniemi. Are you up for the challenge?
Service location: Upinniemi, Kirkkonummi

Service duration: 347 days

Contingent: January
Training
The divers undergo training in two rotating specialization lines rotating every second year, as combat divers in even years and as EOD divers in uneven years.
EOD divers are trained to operate in search and defusing missions of underwater explosives.
Combat divers conduct demanding maritime reconnaissance missions in the challenging conditions of the archipelago and coastal conditions.
EOD divers use multigas diving equipment, and combat divers train to dive with a rebreather. Both training programmes include compressor diving. Apart from undergoing the versatile diving training programme, all divers take the NCO course. The number of diving missions while in service totals altogether 60-100.
Requirements for entry
The training programme for divers looks for fit and motivated applicants. However, neither top-level athletic background nor previous diving proficiency will be required.
Prospective divers need to fulfil the following criteria:
Good state of health, fitness for service class A
Good physical condition
Vision 1.0 (no glasses/contact lenses)
Sharp colour vision, normal fields of vision
Normal hearing
Applying
The diving programme of 2018 started in January. The application deadline for the EOD Diving Programme of 2019 closes at the end of July.
The entrance exams of the Navy Diving School are organised in the Coastal Brigade at the turn of July and August involving physiological tests, a medical examination, and aptitude tests. The applicants will be notified about their respective results within a month's time.
Every year approximately 20 divers get to be selected for the diving training programme.
You can apply for the training programme even if you have already started your conscript service assigned to another brigade-level unit. However, no compensation is given for the time spent in service so far, since diving training always lasts for 347 days.
In case you have fully completed the conscript service in another brigade-level unit, you may not apply to restart the conscript service.
Apply for the Diving Training programme by Finnish Defence Forces' E-service. Fill out the application form online at https://asiointi.puolustusvoimat.fi
Linkit