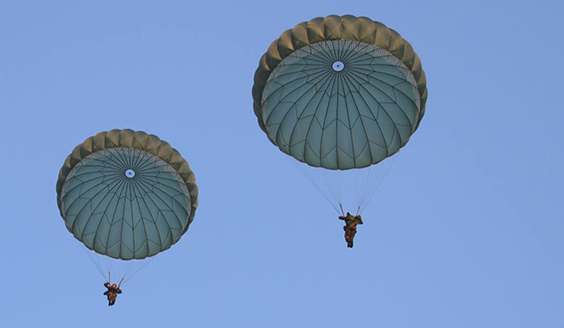 Paratroopers
Every paratrooper is trained to complete reconnaissance and combat missions which are both mentally and physically demanding.
Organised at the Utti Jaeger Regiment in Kouvola, the training involves versatile training in weapons, marksmanship, combat and parachuting as well as coordinated action with army aviation helicopters.
Service location: Utti Jaeger Regiment

Service duration: 347days

Contingent: July
Training
Every paratrooper is trained at least as an NCO, and about 20% undertake training to become reserve officers on the specific reserve officer course arranged for this purpose at the Utti Jaeger Regiment. The training comprises four phases: the basic training period and special training period, NCO course 1, NCO course 2, or reserve officer course and troop training phase.
Apart from the basic soldier's military and parachute training, every paratrooper trains to operate in cooperation with helicopters, accounting for watery terrain and sustaining versatility in weapons handling and marksmanship skills. Training in reconnaissance and combat skills include operating in terrain as well as in built-up areas in demanding conditions in all seasons. As part of the NCO and reserve officer training, every paratrooper practices leading and training as well as specializes, for instance, in signals, combat engineering, or medical tasks.
Requirements for entry
The set entry requirements for becoming qualified as a paratrooper:
good state of health, fitness for service class A

vision 1.0 without glasses (no glasses/contact lenses)

flawless colour vision

normal fields of vision and hearing

good physical condition

the ability to swim at least 200 metres

fair skiing skills
Eliminating factors include sustaining difficult skin conditions, allergies requiring medical attention, other prolonged, severe diseases requiring regular medication, unkempt teeth or dentures, recently broken limbs or difficult joint injuries, criminal register or acts that have led to punishment (theft, embezzlement, assault, and equivalent).
The contents of the physical tests and instructions for passing can be found on the Finnish page only at the moment.
Applying
Applying for the conscript service on the annual paratrooper course takes place on a voluntary basis by 6 December.
The two-day entrance exam is scheduled for each January and consists of physical and psychological aptitude tests and interviews complemented by a medical examination. On the basis of the entrance exam, from 60 to 80 best qualifying persons are selected for the training. The qualification results are published in March.
Even if you have already began you conscript service assigned to another brigade-level unit, you can still apply for the training. However, no compensation is given for the time already spent in military service so far, as every paratrooper serves for 347 days. If you have fully completed the conscript service in another brigade-level unit, you may not apply to restart the conscript service.
Apply to become a paratrooper online. Fill in your application at https://asiointi.puolustusvoimat.fi
Links