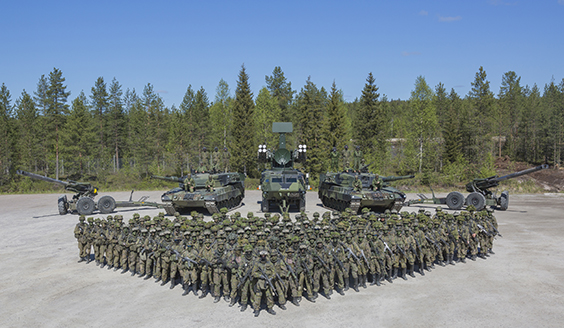 Readiness unit training
Consisting of Finnish Army personnel and conscripts, the readiness units contribute to sustaining enhanced readiness in responding to rapid changes in the security environment on a national level. These units form part of the Finnish Army troops who are rapidly deployable according to need.
Service location: Army brigade-level units, excluding Utti Jaeger Regiment

Service duration: 347 days

Contingent: All
In accordance to the level of training sustained, conscripts may be utilized in
tasks of military national defense involving combat, protection and support as well as

Most versatile training in the Finnish Army

With its versatile training and demanding tasks for conscripts, a readiness unit is available in all the Army brigade-level units, excluding the Utti Jaeger Brigade. This training allows you to develop the capability to operate in demanding combat tasks with the FDF's most recent equipment and thereby gain basic knowledge covering a number of branches. The completion of readiness unit training is considered an asset when applying for the crisis management tasks of the Finnish Army. In other words, being part of a readiness unit allows you to participate in versatile combat exercises and executive assistance exercises both nationally and abroad as applicable.

Service

You do not need to apply for readiness unit training before reporting to service. Rather, you may express your interest in readiness unit training either during the basic training period or when filling out the recruit questionnaire form. Every conscript who undertakes readiness unit training serves for 347 days due to the demanding and extensive characteristics of this training. The qualifying rights for receiving the daily allowance and time off correspond to the general principles applied for military service.

Following immediately after the basic training period, the readiness unit training focuses on deepening your skills concerning the topics already covered and further extending your expertise.

You will be trained, among other things, in the following:

a number of weapons systems,

command and control equipment,

combat in built-up areas,

cooperation activity with Army aviation helicopter troops.