Get going:
Application period for the voluntary military service for women will close on 1 March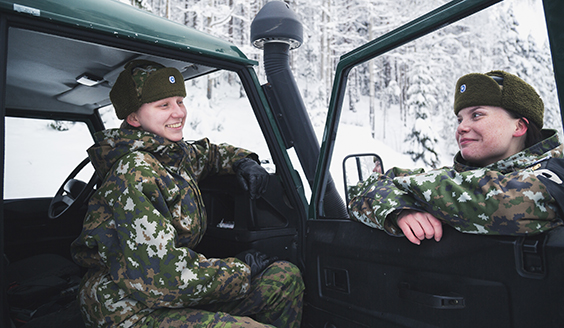 Undertaking the voluntary military service in the Karelia Brigade, Corporal Veera Parkkila and Jaeger Alissa Kahr encourage women to take up the challenge boldly. Over the past years, the number of women applying for the voluntary military service has been on the increase with more than 1,500 applicants in 2018.
The application process for the voluntary military service for women is annually available for women with Finnish citizenship and in a state of health suitable for military training. The applicants must be at least 17 years of age.
In the spring, the applicants will be invited to attend a selection event that will provide information on the service opportunities available and determine the service location and the date of induction into military service.
"I felt nervous before service"
As for Corporal Parkkila, it was this past winter when she submitted her application for the voluntary service and was promptly placed in the contingent 2/2018 of the approaching summer. For Jaeger Kahr, this applying for the voluntary service had taken place already a year before to allow her to complete her upper-secondary school studies prior to the service start. Both the service women are of the opinion that it was particularly pleasant that the selection event in the spring also featured service women who had started their service in the previous contingent and were thus able to tell about their service experiences and be encouraging to the prospective persons liable for military service.
— Of course, before service, I felt nervous about the service start thinking whether I will be part of the group as a woman and wondering if I have the necessary physical stamina, Corporal Parkkila says.
Everybody is equal
Having begun her conscript service in the First Signals Company in Vekaranjärvi, Corporal Parkkila immediately noticed that her gender had no impact on how she was being treated. Rather, everybody was equal alongside their service mates. According to Corporal Parkkila, conscript service challenges both males and females on equal terms, just as it is supposed to.
— I became increasingly fit early on, and on the first few days I grew accustomed to marching and hauling the gear.
It is the Headquarters Company of the Karelia Brigade in which Jaeger Kahr serves as a military police. For her, completing these service tasks will accumulate invaluable experience as Jaeger Kahr intends to apply for the Police University College after mustering out.
— Afterwards, the best of memories will always turn out to be those that were the most strenuous ones. And, once you make the decision not to quit, you notice that you actually have the stamina for more than you ever thought would even be possible. At a later time, you can then be proud of yourself, Jaeger Kahr adds.
A unique experience
Nearly two thirds of the women completing the military service will become conscript leaders meaning that they undertake either non-commissioned officer training or reserve officer training. Corporal Parkkila recommends the leadership training available for all, pointing out that it provides a brilliant path for developing leadership skills and personal competences as well as enhancing self-confidence. According to Corporal Parkkila, this training has provided her with excellent qualifications for assuming civilian leadership positions. Furthermore, while serving as a military driver, she has also completed a lorry driving license.
Both the service women encourage all those, who are thinking about whether or not to submit an application, to take up the challenge boldly:
— If you even a tad bit feel that you are interested in the voluntary military service, it is absolutely worth applying for. This one-of-a-kind experience can only be accrued in the military!