Army complementary international exercise and training activity for summer 2022 to start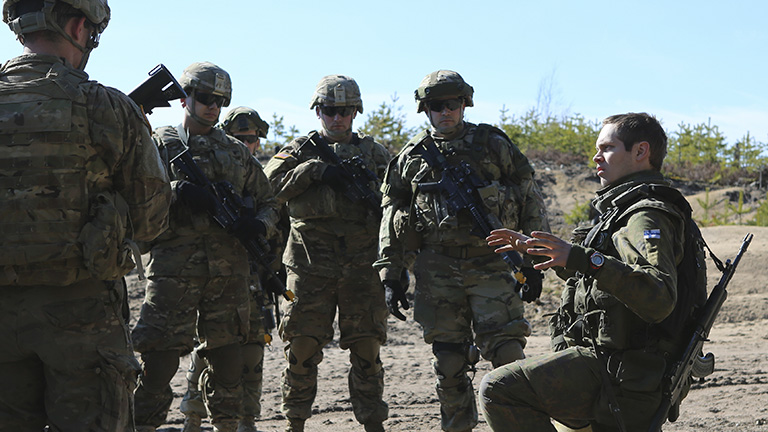 Army complementary international exercise and training activity will start in Southern Finland led by the Guard Jaeger Regiment from 20 June 2022 onwards, whereas in Western Finland the complementary activity is scheduled to begin on 27 June led by the Pori Brigade, and in Northern Finland on 11 July led by the Jaeger Brigade. Personnel and equipment of international cooperation partners will arrive in Finland progressively.
In the Army, the objective of the complementary activity involves further developing and improving the interoperability of forces and TTPs as well as joint operating. Additionally, nationally will be deepened the ability to provide support for international forces relating to servicing and logistics. The number of international troops at Army brigade-level units will vary during the summer.
In the summer, several minor exercise and training drills will be arranged including periods allocated for servicing and resting. In the Army, the complementary activity will spread from mid-June to end of August. In practice, the international training audience will exercise and train in accordance with the brigade-level-unit-specific exercise rhythm.
The exercise drills will mainly be held at the exercise and training grounds located in the vicinity of the brigade-level units leading the given exercise. Other brigade-level units of the Army will participate in the exercise activity.
The Utti Jaeger Regiment will conduct joint exercise cooperation with US Army Aviation units over the course of this summer. The activity will be incorporated into overall exercising of the Army. While in Finland, the aviation equipment and personnel will rely on the facilities and areas of the Satakunta Air Command. The air activity is scheduled to start on 19 July.
The exercising and training activity will concern conscripts, reservists and service personnel. At some brigade-level units of the Army, the presence of international training audience will affect conscripts' accommodation arrangements.
The brigade-level units will issue detailed releases on the exercising and training activity in the wake of its start.
Link to the DEFCOM release: https://puolustusvoimat.fi/-/yha-useampi-suomalaissotilas-harjoittelee-kesalla-kansainvalisten-kumppaneiden-kanssa?languageId=en_US