Finnish Army to muster out more than 7,700 conscripts on 14 June and 21 June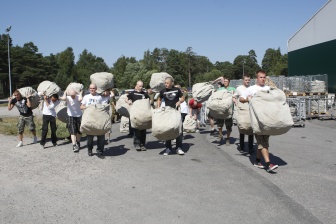 On 14 June and 21 June 2018, altogether 7,720 conscripts and women who have completed voluntary military service will be mustered out from eight Finnish Army brigade-level units. One of those to be mustering out this June will be Corporal Inka Rytilahti who completed the service in the Jaeger Brigade.
This year, the mustering out procedures will exceptionally take place on two separate dates. Consequently, the conscript leaders and those trained in the most demanding rank and file tasks beginning their service in June 2017 will be transferring into the Army reserve on Thursday 14 June. A week later on 21 June, the conscripts of the January 2018 contingent who undertook training in rank and file tasks on a 165-day service duty, in total 3,666 conscripts, will be in turn mustering out.
In the Finnish Army, the highest number of conscripts mustering out will be from the Pori Brigade and Kainuu Brigade with over 1,500 conscripts in each. Of those mustering out, altogether 205 will be women who have completed the voluntary military service for women.
As for Corporal Inka Rytilahti from Rovaniemi, her initial plans involved undertaking the military service as a military police in the Jaeger Brigade. However, after careful considering, she ended up on the Jaeger programme and completing the Non-Commissioned Officer Course.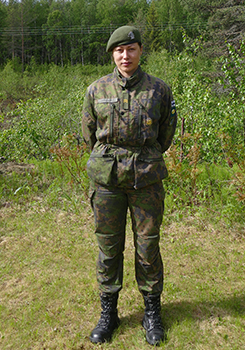 – After all, I was interested in undertaking leadership training and wanted to serve for a full year. The most important skill that I have developed here is that of leading a section. I also learned a number of new things that would have remained unachievable as part of the civilian life, Corporal Rytilahti explains.
Sustaining good team spirit becomes extremely important while in conscript service. Similarly, one's own approach and attitude significantly impact on the completion and meaningfulness of the service. Corporal Inka Rytilahti also has this in mind while about to enter the Army reserve.
– When good team spirit is sustained, it is easier to get things done. It also pays off not to give up right at the moment when something is not fine by you. Be confident and move forward, you get through everything as part of a good team.
For those starting their service this summer, Corporal Rytilahti wants to volunteer a piece of advice:
– It is wort starting the service with a good attitude. And it is not worthwhile taking things too seriously. This will take you a long way.
The next conscript contingent will begin their service on Monday 9 July 2018.