From Recruit to Platoon Leader: Markus Lautala Trusts Gained Skills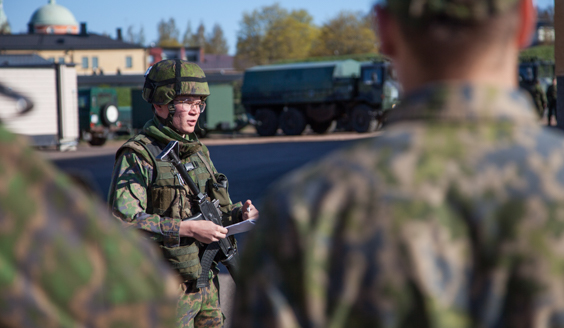 Officer Candidate Markus Lautala's conscript service is coming to an end soon. He has served in Hamina for 347 days. Lautala hoped to meet challenging tasks while in the Army and managed to apply for those challenging tasks. Today, he musters out from service, solid trust in the skills and abilities that he leaned during his conscript service. He is aiming for a military career.
Markus Lautala's conscript service started in his hometown of Hamina in July 2018. He was prepared and motivated to do his duty as well as possible, and to go outside his comfort zone. His friends had told him much about the phases of conscript service, and he was interested in leadership training.
Lautala's path led him to the Army Academy and its Infantry Company, where he did well: first in basic training and then on the non-commissioned officer course. He was selected from the non- commissioned officer (NCO) course to continue his leadership training on the reserve officer course. We had an article about the start of his military service last July, read more here.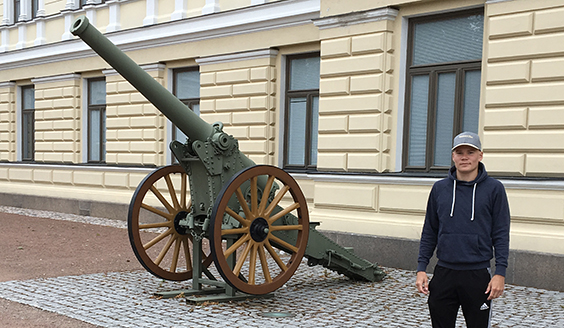 Lautala started his service last July.
Lautala got the responsibility he was hoping for, during the reserve officer course, and the leadership period following the course. The most educational experience was the Reserve Officer School's command and leadership exercise.
- During the command and leadership exercise I was truly able to challenge myself and learn new things about myself, as well as to know my limits, Lautala says.
During training he became an increasingly better leader, and feels like the Reserve Officer School provided him with a good basis for his own wartime task. Lautala feels that his previous civilian skills as a sports coach and as a substitute teacher have also helped him during service.
– Experience with speaking to a large number of people has been an advantage when leading, he stated.
After graduating from Reserve Officer School, he became an assistant instructor on the NCO course.
Aiming for a Military Career
Conscript service has inspired Markus Lautala to pursuit a military career through the National Defence University. He said he also applied to become a Contractual Soldier after positive experiences during conscript service.
– I thought of a military career as an option already before reporting for service, but here the idea has only grown stronger. In the next university joint application period I am also going to apply for the National Defence University, Lautala muses.
He feels he got a lot of good things from his conscript service and encourages all future conscripts to challenge themselves during service.
– In the end, conscript service gives you much, although sometimes it may feel rough when you are outside your comfort zone. The hardest moments often make for the best memories, he says.
Lautala's desire to defend Finland comes from history. He feels conscript service is an important part of being a Finn, and sees that it also bolsters the will to defend the country.
– Finland's military defence is every Finn's business. It is difficult to imagine a better system, particularly when conscription works so well, Lautala says.
In addition to a safe Finland, a possible career path, and new experiences, conscript service has given him the opportunity to make new, even lifelong, friends.
– I more or less got what I was expecting, and even a bit more, he summarizes.
Many Opportunities in the Reserve
Lautala musters out into the reserve feeling happy, but perhaps also with a bit of sadness.
– It's a shame that such a good group of people scatters all over the country, he says.
If his plans concerning a military career change, he hopes to get to called to refresher exercises soon, and involved in voluntary national defence. Completed conscript service makes one eligible to apply for crisis management and for a military career, both as an officer and as a Non-Commissioned Officer (NCO).
Together with Lautala, approximately 7 800 other conscripts muster into the reserve from the Army's brigade-level units. The most conscripts are mustered out by Kainuu, Karelia, Pori Brigade and the Armoured Brigade. The conscripts mustering into the reserve are mainly from contingents 2/2018 and 1/2019. They have completed either 347 or 165 days of military service.
Over 900,000 Finns are members of the reserve. The wartime strength of the Finnish Defence Forces is 280,000 troops, and in necessary, it will be augmented with other reservists. The Finnish Defence Forces will see that the reservists have the necessary proficiency for their wartime duties and trains reservists in refresher training exercises.
Voluntary exercises and training to maintain their own national defence skills are also organised for reservists. A reservist must also maintain their own ability to function. A good way of doing that is exercising. The Defence Forces MarsMars -app encourages you when exercising, and it enables you to plan your own fitness programme and makes it easy to monitor how your fitness improves.
The regional offices are the reservists' point of contact to the Defence Forces. You can visit the regional office to ask about your own wartime placement, about refresher training exercises and voluntary national defence. The regional office can also provide military service register extracts if necessary.
The Finnish Army thanks all the conscripts now mustering out for their service.