A total of circa 6,400 conscripts will get home for Christmas from the Finnish Army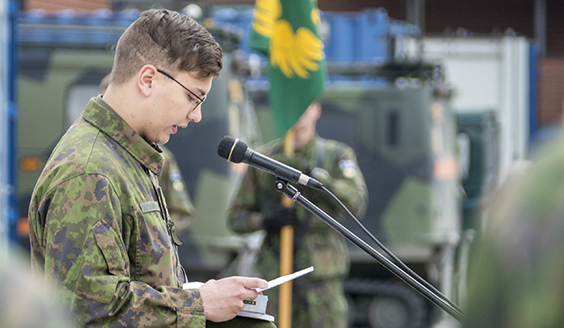 A total of circa 6,400 conscripts will be mustering out from the Finnish Army on Thursday 20 December 2018. Among those mustering out will also be Conscript Chaplain, Officer Candidate Penja Korkkonen. While carrying out the set service tasks, Officer Candidate Korkkonen has been able to utilise the competence accrued in civilian life in a variety of ways. On top of this, he has gained plenty of experience relevant in light of his future profession.
In the very beginning of his military service, Officer Candidate Penja Korkkonen familiarised with the tasks of a conscript chaplain. At that point, he had completed altogether six months of studies majoring in theology at the University of Eastern Finland. According to Officer Candidate Korkkonen, helping others has always been highly important for him personally.
— The most important task of a conscript chaplain is to serve his mates by listening to them both in everyday life and in times of crisis.
Officer Candidate Korkkonen points out that the characteristics necessary for a conscript chaplain include, among others, sustained interaction skills and the courage to encounter other people just as they are.
Soldier's Mind Programme will develop self-knowledge
The Finnish Defence Forces will renew conscript training by means of the Training 2020 Programme. During 2018 and 2019, a programme titled Soldier's Mind will be piloted for training psychological, ethical and social capabilities. This training will aid conscripts in strengthening their internal motivation and self-confidence as well as prepare for operating in stressful situations and to survive and regain performance capability.
Officer Candidate Korkkonen views the themes covered in the Soldier's Mind Programme to be significant in the conscripts' operating and in the overall development as human beings. Ethical capability in particular needs to be tackled by primarily focusing on one's own operating and one's own role as part of conscript training. Officer Candidate Korkkonen explains that the lectures given by the conscript chaplain offer viable solutions for dealing with one's own performance capability and owning responsibility.
Officer Candidate Korkkonen says that also practical social issues are at times discussed with the conscript chaplain as well, which, obviously, is a very good thing indeed.
— I believe that here in the military everybody sports the courage to be exactly who they are. Of course, some people may end up changing their role slightly but I view that as part of the ordinary.
Among his very best service experiences Officer Candidate Korkkonen cherishes giving field devotionals and celebrating the Eucharist with the troops. Serving as a conscript chaplain has offered him perspectives and experiences relating to serving later as an ordained person. In addition, service as a conscript chaplain will award him 5 ECTS transfer credits as part of his university undergraduate degree in-progress.
After transitioning into the reserve, Officer Candidate Korkkonen will enjoy the Christmas time together with his family. In the coming spring term, he will take up his studies at the University of Eastern Finland. In the summer he intends to continue his pastime of fishing and in the fall that of hunting.
— What else could a human being wish for, he observes contented.
The liability for military service of Officer Candidate Penja Korkkonen and other conscripts mustering out will continue in the reserve. You can read more about being part of the reserve, undertaking refresher training exercises and voluntary training exercises online here. (https://varusmies.fi/reservissa).
All the best in the reserve!
Conscripts mustering out from the Finnish Army 20.12.2018:
- Altogether 6,403 conscripts in total
- The number of women undertaking voluntary military service for women mustering out: 181
- The brigade-level units with the highest number of conscripts mustering out: the Pori Brigade 1 451, Kainuu Brigade 1 424 and Karelia Brigade 1 393 conscripts.